Reduce costs and boost productivity with fast, integrated accounting and financial management software. Sage 300 ERP integrates your sales and service functions for streamlined, end-to-end financial management. Powerful, flexible tools improve financial reporting and compliance and provide better business intelligence for a greater ROI.
Comprehensive Accounting/Financial Management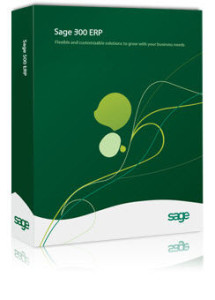 The powerful financial tools of Sage 300 ERP help you confidently manage your company's complex finances and remain compliant with government regulations such as GAAP. Features include full multicurrency capability, powerful bank reconciliation and tax reporting, flexible transaction processing options, powerful management of fiscal periods, and informative dashboards for analytical reporting. Sage 300 ERP Core Accounting modules help businesses succeed by accurately presenting valuable financial information in a clear, understandable format.
• General Ledger
• Accounts Payable
• Accounts Receivable
• Payment Processing by Sage Exchange
• System Manager–Bank Reconciliation
• Sage Fixed Assets
• Sage Active Planner–Advanced Budgeting and Allocations
• Check and Form Printing by PrintBoss
Cost-Effective Operations, Distribution, and Supply Chain Management
Optimize operations and distribution processes to eliminate waste and deliver on time—every time. Accelerate growth, enhance customer satisfaction, and improve your bottom line. Sage 300 ERP Operations and Distribution Management modules ensure your business follows best practices for efficiency and accuracy by automating and integrating processes to keep your warehouse, inventory, production, and service departments aligned and running smoothly. With features that support multiple warehouse configurations as well as multiple site customers, Sage 300 ERP is optimized for a wide variety of distributors. The Sage 300 ERP distribution solution empowers you to strategically manage every aspect of the distribution cycle, from purchasing all the way through sales, with unparalleled efficiency and control.
• Inventory Control
• Purchase Orders
• Order Entry
• Credit Card Processing
• Return Material Authorization (RMA)
• EDI by TrueCommerce
• Warehouse Management by Accellos
Not what accounting software is right for you? Want to learn more? Accu-Comp Services is a Sage Certified Consultant and we can help. Contact Us today for a discussion of what your business needs and how we can help.
Contact Us To Find Out More